How Much Is a Rooftop Tent? in 2023
A rooftop tent can cost anywhere from $1500 to $4000, maybe even more. It is difficult to give an exact figure because you might find a tent that works better for you for less money, or perhaps, in the long run, you regret buying a tent, whether you purchased an expensive or cheap one.
Let me give you my example. I bought a rooftop tent for $2000, but it didn't come with a ladder. Therefore, I had to buy the ladder separately. Later, I discovered that a good quality rooftop tent for under $2000 could also come with an acceptable ladder.
Therefore, when you decide to buy a rooftop tent, always consider your preferences first and then look at the price tag.
The purpose of this article is to inform you about various rooftop tents with their price tags and specifications and to put their strengths and weaknesses in front of you. In this way, you will be able to decide whether you should go for a cheaply priced tent with some shortcomings because they do not matter to you, or you need to spend more for more features.
Let's get started!
Are Rooftop Tents Worth It?
Yes, no doubt that rooftop tents are the ideal option in many aspects. In case you still have any concerns or you are hesitated about RTT, you can look at: What is the advantage of a roof top tent?
In short, a rooftop tent is attractive and can provide a better view of your surroundings because it is at height, more comfortable and hygienic, warmer, etc.
What Is The Cheapest Rooftop Tent?
There is a crowd of brands that make cheap rooftop tents. However, every cheap rooftop tent has its own compromises. Many RTTs are cheaply built, but they offer a lot of features, and some are remarkably well built, but they offer fewer features in comparison. Therefore, it is up to you what you need.
Here are some of the cheapest rooftop tents I have used.
Nomadic 2 Extended Roof Top Tent comes in about $1350. It can accommodate 3 persons, which is a good plus at this price range. It has an excellent breathable mattress and also comes with an aluminum ladder. Further, it is easy to install, and no drilling is required.
On the other hand, the negative aspect of this rooftop tent is that although it can handle rain, moisture can still accumulate inside even when all the openings are closed. In my opinion, its material is not very thickly layered, which is necessary to keep moisture out. In addition, it has an average quality cover.
The Smittybilt Overlander tent is a little lower priced (about $1325) than the Nomadic 2 Extended Roof Top Tent but believe me, it is a way higher quality roof top tent. It is a waterproof RTT and also comes with a rainfly, sunroof, PVC cover, ladder, etc.
The weak point is that it is a 2-person roof top tent. Also, like Nomadic, its cover is not of good quality.
Campoint Rooftop tent comes under $1900. It is my favorite rooftop tent for many reasons. First of all, it is a hard shell RTT. So, you do not have to worry about damaging the tent cover in any season. Secondly, it is a purely square roof top tent. So, you will have more space like a room.
On the negative side, obviously, it is more expensive than above both tents, and secondly, it is heavy so, maybe it will not fit with some vehicle roofs because of less weight bearing capacity.
It is the second rooftop tent from Campoint. It costs nearly $2450. Although it is not very different from the first one, you will get more if you pay more. You will find more premium material quality in everything.
Also, everything is there, from transparent windows screen to mosquito net, sleeping pad for different uses, rainfly, and premium quality ladder. But again, it is a heavy one because of the hard shell and thick material.
What should you consider while buying a rooftop tent?
Firstly, you should look at the weight-bearing capacity of your vehicle's canopy. Now, select the rooftop tent that weighs less than the bearing capacity. Keep in mind that your weight + RTT weight should be less than the weight capacity of the canopy.
Secondly, never compromise on tent material and the cover. Both should be waterproof and should be of the best quality. I recommended preferring the hard shell if the weight-bearing capacity of the vehicle's canopy allows it.
Thirdly, the ladder should be included in the package and should be of good quality.
Last but not least, the rain fly should also be included in the package.
Do you really need to spend a lot of money on a rooftop tent?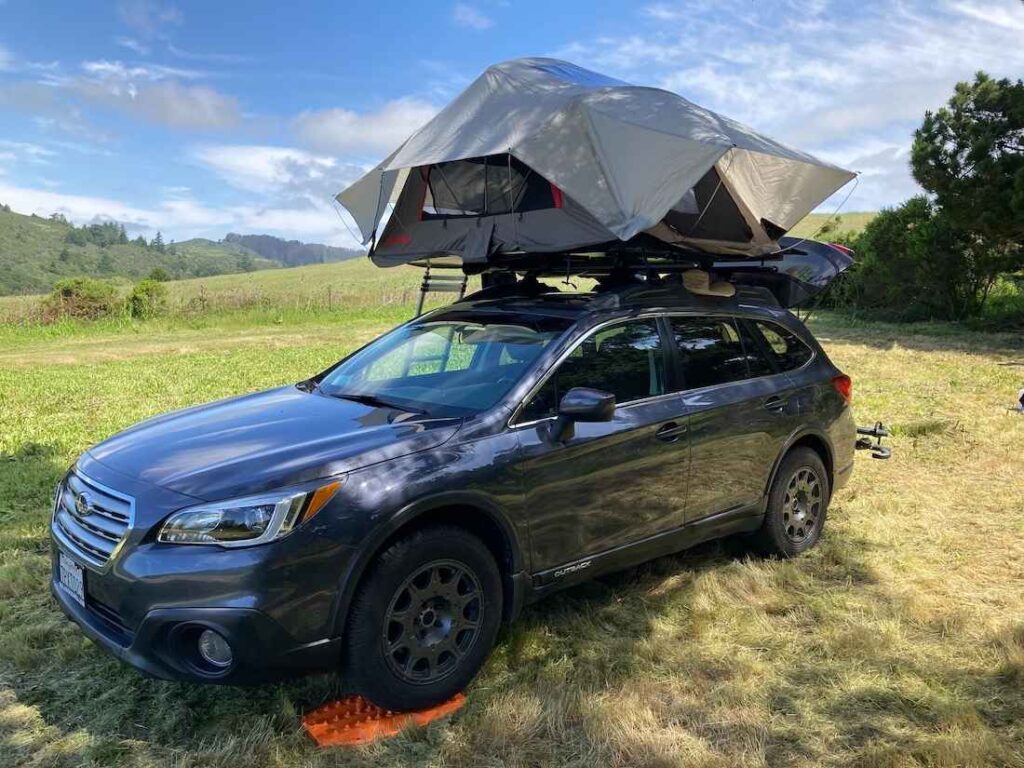 Absolutely not, you do not have to spend a lot more money on a rooftop tent. It is a big misconception that if you pay more and more, you will get more and more. Yes, to some extent, it is true, but mostly it is a lousy marketing strategy.
For example, if you need a lightweight tent, you must compromise on many things. First of all, you will avoid a hard shell. Secondly, a ladder and extra features like rainfly, mosquito net, and many other little things make your tent more comfortable.
Therefore, you do not have to spend much money on a rooftop tent if you need a lightweight tent that of course costs less. However, remember that some RTTs are not only lightweight yet waterproof and durable material, as well as expensive.
On the other hand, if you want to have each and every feature in your rooftop tent, like a living room, obviously you have to spend a lot of money. For instance, a rigid shell box to fully secure the tent from elements while the vehicle is running, fully waterproof and thick tent material, rainfly, windows, etc., all increase the overall price of the tent.
In general, you should be able to find a decent rooftop tent under the price range of $2000.
What makes rooftop tents more expensive than ground tents?
There are a lot of reason that makes rooftop tents expensive than ground tents but one of the obvious reasons are given below:
Mattresses for rooftop tents are made of heavy and high-quality materials that add to the cost. However, a heavy base keeps the tent from flying and, most importantly, makes the tent comfortable.
Mostly Rooftop tents mostly come with a good cover that is not very necessary for ground tents. So, mostly ground tents come with average quality covers that add a little cost, unlike RTTs cover.
Ladders are mandatory in the RTTs that are primarily included in the package.
RTTs include rainfly, canopy installing system, and many other small things that add to the overall cost.
Conclusions
Although rooftop tents are expensive, in my experience, if you have a ground tent, you will have to spend more on many things that will no longer be needed in a rooftop tent.
For example, after buying a rooftop tent, you do not have to pay for a mattress, a good tent cover, wind stakes, rain fly, and many other things. So, overall a rooftop tent of good quality can provide you excellent value for your money in the long run.
Source